LIVINGSTON (UK) TOURING SOUTH AFRICA AUG 2015: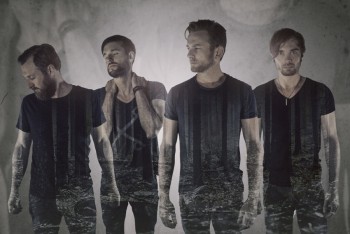 LIVINGSTON (UK) – TOURING SOUTH AFRICA AUG 2015:
Including Oppikoppi The Fantastic Mr. Vos Vos; Cape Town; Johannesburg; Eastern Cape and Durban.
There are few bands that really manage to make the quiet/LOUD dynamic work to its full power, but Livingston are largely masters at this craft" – Kerrang!
"This foursome display their technical prowess with… A viscous soup of alternative rock with atmospheric elements.. Singer Beukes Willemse's voice is simply haunting.9/10" –Big Cheese.
UK rock band Livingston will be coming to South Africa in August 2015. Their tour will kick off at Oppikoppi The Fantastic Mr Vos Vos and show dates for Cape Town, Johannesburg, Eastern Cape and Durban will be announced soon. The band will also spend time on a farm in Newcastle to write and record their next album.
Having formed in the multi-cultural hub of London,Livingston searched high and low to find their collective musical feet. With singer Beukes Willemseand a guitarist/keyboardist Chris van Niekerk from South Africa, guitarist/percussionist Jakob Nebel from Germany and bassist Phil Magee from the UK, it seemed almost impossible that their paths would cross. However fate took hold when Beukes was re-united with Chris in London to find the missing pieces to the Livingston puzzle. The band has since also set up roots in Berlin and currently operates between the UK and Germany.
Finding their feet with 2008's debutSign Languageand 2012'sFire To Fire (Universal Music Germany), the band achieved numerous successes includingTop 20in the German Sales Charts andNumber 1Amazon&iTunes Rock Charts. Their single "Broken" went to Top 20 and their second single "Go" was the official song for German national broadcaster ZDF during the winter Olympics of 2010.
The Band also collaborated with Hugh Masekela and Till Brunner for a song for theFootball  World Cup in South Africa (2010)
.
The Band and their Music where also featured in the international blockbuster movieChalet GirlfeaturingBill Nighy, Felicity Jones, Brooke Shields and Ed Westwick.
Retreating to a hunter's cabin in the woods just outside Berlin, an unorthodox location for a band who had previously recorded at the hallowed grounds of Abbey Road and Sonic Ranch with producers such as David Botrill.(Muse, Tool, Placebo) The band wrote, produced, recorded and mixed Animal entirely on their own. The result?Animal is Livingston at their purest.
Livingston released Animal in the UK, Benelux and GSA in Autumn 2014, followed by successful tour where the band displayed their best and most dynamic live shows to date.Listen to the single "Chemicals" off the album (submitted to SA Radio in June 2015) here:https://soundcloud.com/livingstonmusic/livingston-chemicals-radio-edit
An album of complexity, an intricate weaving of layers that crosses multiple genres… Beukes… ability to convey feelings through his singing is possibly the highlight of the album.9/10" –Powerplay
"Livingston have further expanded their brooding alt-rock sound… wild-eyed and hungry for more… that's surely the biggest proof of all that they've been away too long.8/10"-TeamRock
"Catchy, soaring alt-rock… This band have the talent and experience to set themselves apart from the radio-friendly pack"– Rock Sound
Vocalist Beukes Willemse says that the band is looking forward to their time in South Africa: "We are absolutely ecstatic to be touring SA. It has been a dream for so long that it seems quite unreal that it is actually happening. Cant wait!"
Watch the Livingston EPK here and get ready for a BIG sound South Africa!:https://youtu.be/TaiA_QgKp9c
Social Media Links:
http://facebook.com/livingstonmusic
http://youtube.com/livingstonlondon
https://twitter.com/livingstonmusic
https://open.spotify.com/artist/4AQGKGsaGWwINPrqvYuhjJ
Video Links (ANIMAL singles):
"Chemicals"https://youtu.be/CXhDsz46_NI
"Human"https://youtu.be/ZOu5zJ4idsA
"The Hunter"https://youtu.be/99N4MX12gg8
"Reckless"https://youtu.be/5pBxP_EBlXc