WOLFTOWN debut album "SOUL ON FIRE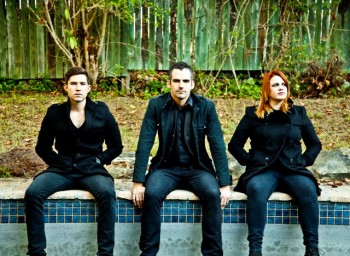 WOLFTOWN debut album: Soul on Fire – July 2013.
"They launched into their first song "Till The Sun Comes Up" with a raw energy that resonated through the venue and made your heart expand with wonder...The sound this band makes can only be described as wonderful... "This album is a beautifully crafted piece of music from a band with an incredible amount of talent." SaMusicScene.co.za
WOLFTOWN is a female-fronted 3 piece rock band from Cape Town, South Africa. Their debut album, "Soul on Fire" was recorded at Sound & Motion Studios and was launched at the Harley Davidson Club in Cape Town on 25 July 2013.
""Soul On Fire" is about having a burning passion for the things you spend your time doing. It's about not holding anything back. It's about burning your embers to your last breath. The concept of the album is something we talked about for a long time. The sketches of the matches on the CD cover get darker at the end because they are about what we wanted to say visually. Like wolves, we have that dominant approach in representing what we do and we're fiercely focused on it." - Wolftown
Wolftown launched their first single "Settle Down" in 2012 with great success. The track was part of an EP release of 3 songs that were mastered in London by Kevin Metcalfe, who has worked with The White Stripes, David Bowie, The Sex Pistols, The Police, U2 and more.
"Settle Down" played on 5fm (SA), featuring at #3 on Jon Savage's rock chart and received a 93% HOT public rating on the Fresh Drive Show. The track also reached the no 1 position on Tuks fm and 2Oceansvibe Radio. The track will also be available on the album.
The new single off the album "Don't you know"was submitted to radio nationwide in June 2013. The video of "Don't You Know" features a great house party, pole dancing, kissing, drinking, dancing and more! Link to view here:http://www.youtube.com/watch?v=n---H-ozz7s
WOLFTOWN has played all major venues in Cape Town and started their festival circuit with 'Road to Rock' and 'Synergy Festival' in 2012 and "Utopia Music Festival" in 2013.
FB: :http://www.facebook.com/wolftownband?fref=ts
Twitter: @Wolftownband
Media quotes:
"If you're in two minds about getting yourself a copy of Soul on Fire and you're not really all that sure about Wolftown, here's my advice: get your ass to one of their shows! Listen to their set, watch their fans go wild and you might even want to buy a t-shirt too.~ From the second Wolftown took the stage to the moment they left, the whole room was absorbed with one thing and one thing only; the music."
BiancaFernandes, CPTstreetmag.com
"Having returned and digested Soul on Fire a few times, I`m left feeling far more than satisfied. Wolftown have delivered on the promise they`ve shown for some time. A mature record filled with infectious alternative rock tracks that reveal a band that has found their sound, their strengths and focused on delivering just that"
"Bryanopines.wordpress.com
Led by Pope's raw yet restrained voice that commands a crowd, the three of them have chosen to present their brutally honest lyrics (mostly written by Pope) on a bed of blues and folk rock on their first album, Soul On Fire."                        Helen Herimbi, Argus Tonight.
"Wolftown, if South Africa won't take you to the top, you WILL do it yourselves.Well done on a brilliant launch and beautiful album."Dirtypinkcity.blogspot.com
"This trio has the passion, talent, drive and originality to be the next big international act South Africa has to offer." Gary Cool. www.garycool.com