ZEBRA & GIRAFFE NEW ALBUM AND NATIONAL TOUR - SEPTEMBER 2014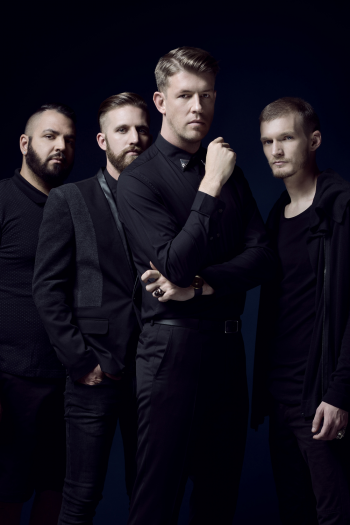 ZEBRA AND GIRAFFE
NEW ALBUM RELEASE: KNUCKLES (Just Music)
"Their new single 'I've been bad' shows exactly where the band is, dark verses,a catchy chorus, and showcasing how hard they have been working. It's just so good! "They are sleeker and more polished than they have ever been." - Catherine Grenfell, 5fm.
Zebra & Giraffe`s new 8 track album "Knuckles" will be available from iTunes from 15 September 2014. The good news is that presales open on Monday 1 September and the current single "I`ve Been Bad" will be sent to you instantly (Instant Grat) when you pre order the album.
Presales link: http://bit.ly/iTunesKnuckles
A second track will be made available as Instant Grat on Monday 8 September. If you've pre-ordered the album, the song will download to your iTunes on the 8th.
The unplugged versions of Dive & Knuckles will be exclusively available on iTunes. They will not be available on any other platform and will not be on the physical CD.
The CD version of "Knuckles" will be released in October - the physical release will include some exciting bonus live material that fans have been asking for.
NATIONAL TOUR:
Zebra & Giraffewill be on the road in September and October to introduce the new album to fans nationwide. Tour stops include: Cape Town, PE, Boemfontein, Durban, Pretoria, Potchefstroom and Johannesburg. Recent Oppikoppi reviews prove thatZebra & Giraffeis a must see live; do not miss them playing at a venue near you soon:
When they hit the chorus of their new single'I've Been Bad', 12 000 people lose their collective shit. Zebra & Giraffe has never sounded better technically–or more rock'n'roll!."Oppikoppi 2014 ~www.texxandthecity.com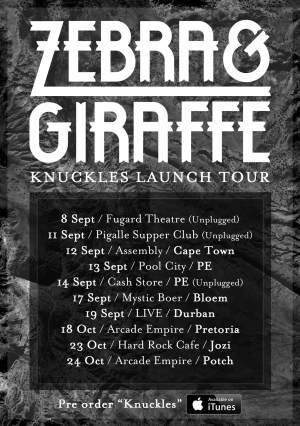 KNUCKLES TOUR DATES:
Mon 8 September
Cape Town, The Fugard Theatre (unplugged)
Africa Voices Gala Concert
Address: Caledon Street, District 6
Show Starts: 20h00
Cover Charge: R100.00 - R140.00 (R10 discount for students & Friends of the Fugard)
Tickets:021 461 4554 OR www.computicket.com / 083 915 8000
Thurs 11 September
Cape Town, Pigalle Supper Club (unplugged)
Address: 57 Somerset Road, Green Point
Show starts: 19h00
Cover Charge: R290 including 3 course meal & free cocktail. Additional whisky pairing and extra cost.
Tickets:www.webtickets.co.za
Fri 12 September
Assembly, Harrington Street, Cape Town.
Doors open 21h00
Cover Charge: Early bird: R50. Presale and at door: R60
Tickets:www.webtickets.co.za
Sat 13 September
Port Elizabeth, Pool City
Address: 13/14 Times Square, Heugh Road
Show starts: 21h00
Cover Charge: R60
Sun 14 September
Port Elizabeth, The Cash Store (unplugged)
Address: 278 Sardinia Bay Road
Show starts: 21h00
Cover Charge: R60
Wed 17 September
Bloemfontein, Die Mystic Boer
Address: 84 Kellner Street
Show starts: 21h00
Cover Charge: R40
Fri 19 September
Durban, LIVE the Venue
Address: 166 Stamford Hill Road (Matthews Meyiwa)
Show starts: 21h00
Cover charge: Early bird: R50. Presale and at door: R60
Tickets:www.webtickets.co.za
Sat 18 October
Pretoria, Arcade Empire
Address: 265 The Highway Street, Equestria
Show starts: 21h00
Cover charge:R60.00
Thurs 23 October
Johannesburg, Hard Rock Cafe
Address: Nelson Mandela Square, 8 Maude Street
Show starts: 21h00
Cover Charge: FREE
24 October
Potchefstroom, Arcade Empire
Address: 84 Steve Biko Street
Show starts: 21h00
Cover charge: R40.00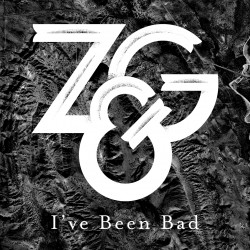 Connect with Zebra & Giraffe:
Connect:www.facebook.com/zebraandgiraffe
Follow:www.twitter.com/zebraandgiraffe
Listen:www.soundcloud.com/zebraandgiraffe
Watch:www.youtube.com/zebraandgiraffe
Bookings:jessica@theprojectroom.co.za(Jessica Schnehage)
Label:tania@justmusic.co.za(Tania Anderson)
Publicity :liny@mweb.co.za(Liny Kruger – LK Mediabook)
Photo credit: Ross Garrett